Who to Watch

For such small conferences, the IAC and MAC produce some pretty big-name runners. You'd never guess that the legendary Steve Duplinsky and Nick Bax came from a league with only six teams, and that distance phenom Johns Ross's league only had seven. Not surprisingly, all of these past prodigies have graduated, leaving their conferences wide open for a new generation of runners to strive to take the next step towards superstardom.


In 2006, it seemed like then-freshman Jack Strabo would inherit the claim to "Best of the IAC" after placing 5th as a freshman in his first year of running. The only underclassman ahead of him was Georgetown Prep sophomore Ramsey Chapin, who beat Strabo by a mere second. From an outside perspective, it looked like Strabo didn't have long before he was the conference's cream of the crop. Flash-forward to two years later, however, and things haven't gotten any easier for Strabo. Ramsey Chapin didn't run cross country due to injury, which made it all the more surprising when he blazed a 4:15 1600 this past spring, and then a 3:54 1500 one month later. And because two stars isn't enough, the league's new wunderkind, Reid Nickle of Episcopal, was a force to be reckoned with during last year's cross country season, placing 3rd in the IAC meet and 7th at the VIS Championships, where he finished one second behind another rising star, Campbell Ross of the Potomac School.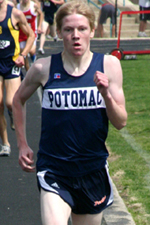 In his first year of high school, Ross ran remarkably well, running 15:57 for 5K at Glory Days Grill Invitational, then following that up with a 3rd place showing at the MAC meet (79 seconds ahead of the next non-senior competitor) and a 5th place showing at the VIS Championships. With no senior teammates ahead of him now, Ross will be a force to be reckoned with in the MAC, and should have no problem leaving strong MAC competitors - like St. Andrews' Tom Belikove (currently recovering from injury) and Georgetown Day's Sam Freeling - in the dust.

But that's not to say he won't be unchallenged. Word on the street is that Sidwell Friends' John McGowan will be competing this year. If you haven't heard of him yet, you will. Though he played soccer last fall, McGowan truly broke out at the end of the outdoor track season, running a 4:27 1600 at the MAC Championships, which was followed not long after by a 4:06 1500. Oh, and by the way, McGowan is just entering the 10th grade, just like Ross. Things in the MAC just got a little more interesting...

Teams to Beat: In the IAC, perennial powerhouse St. Albans should have no problem picking up yet another championship despite having graduated a sizeable chunk of last year's championship team. A solid top three in Alex Snowdon, Jamie Durling, and Francis Thumpasery should have what it takes to hold off Georgetown Prep, which will be considerably stronger than last year, assuming Ramsey Chapin stays injury-free.

Just about every team in the MAC loses a lot of seniors, with the exception of St. Andrews. Only Chase Felker departs from the Lions, and with Tom Belikove leading the way, Dylan Thayer, Pablo Galicia, Ben Naughton, and Scott Womer will likely get a taste of victory once more.