4A GIRLS
Northwest Girls
County Finish: 1st
Region Finish: 1st
State Prediction: 2nd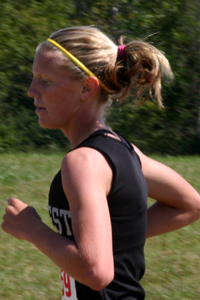 Although Northwest has not lost to a Montgomery County team this year, there are several teams from in county and out of county that are right at their level. This year's state championship is going to be a hotly contested battle among over a half dozen teams with Northwest right in the thick of things.

Eleanor Roosevelt proved their strength by defeating Northwest by a large margin at the Glory Days Invitational, but when Northwest runs with their freshman, the gap will be narrowed. If Roosevelt does not have Tyreka Arrington, who was missing at the regional meet, they will not be competitive enough to win. Of course C. Milton Wright, South River, QO, Whitman and others are right there to give them a fight as well.

After winning the Montgomery County Title and the 4A West Region Title, Coach Muehl is pleased with what Northwest has accomplished, but insists that they still have not had their best race as a team. She expects the same thing out of her runners at states as any other race.

"100% from 100% of the runners. If you can cross that line knowing that you gave all that you could on that given day than that is all that matters. Everything else falls in line from there."

Montgomery County champion Britt Eckerstrom was runner up at last year's state meet, running one of the fastest times ever run by a Montgomery County runner at Hereford. She will again be expected to run with the leaders, but defending champ Teshika Rivers will once again be in the race along with a few other runners who have gotten the best of her this season.
Quince Orchard Girls
County Finish: 2nd
Region Finish: 2nd
State Prediction: 4th
Quince Orchard has had ample opportunity to measure themselves up against Northwest this season (seven head to head races so far this season). Though they have not topped Northwest yet this season, they have grown closer with every race.

Coach Pelkey explains that Northwest has the advantage through the # four and five runners, but "considering the best days are ahead of us for our front three, we're confident headed into states. We just need our 4-7 girls to keep their heads in the first third of the state meet and finish as strongly as they have been and we should be good to go."

Of course, Northwest is not the only team QO has to worry about, but by measuring against a strong team that they have faced seven times already, they will be right in the thick of things.

Says Pelkey, "We've really emphasized the "every point counts" mentality and the fact that any of those teams can win on any given day...including us."
Whitman Girls
County Finish: 6th
Region Finish: 3rd
State Prediction: 5th
Whitman graduated arguably more talent than any other team in the state, yet probably gained more back through new runners and hard work than any team out there.

"You look at QO and Northwest and they are probably two of the best in the state," Coach Steve Hays explains, "and we are right up there with them."

Leading the way for much of the year has been junior Shayna Barbash along with the talented freshmen Anna Ryba and Alexandra Phillips. But giving them a huge boost at the regional meet was sophomore Danielle Newsham who went from the junior varsity race at counties to 18th in the region.

Hays said that Newsham spent the early part of the season growing accustomed to high mileage, but encouraged her to keep working and the dividends would pay off. One can only imagine what she might do (and might help her team do) this weekend at the state championship.
Walter Johnson Girls
County Finish: 4th
Region Finish: 4th
State Prediction: 10th
The Walter Johnson girls have had good and bad races this season, but are ultimately running at a much higher level than last year because they are team runners before they are individual runners.

Coach Tom Martin explains, "It is not easy to get kids to understand that when the race is not going well is when you have to give your best. This team does this very well."

Through the ups and downs, Jenna Willett and Camille Bouvet are having breakout seasons while Jennifer Spencer and Maria Moersen are coming on strong at the right time. Of course it is Anna Bosse leading the charge.

According to Martin, when it comes to Bosse, it has always been a matter of gaining confidence and she has been gaining confidence every week. She was right in the thick of the large group of leaders at the county championship and finished not far out of the lead, 12 second back in fifth. The hills of Watkins Mill only played to her advantage as she ran away to the regional win by 9 seconds. Expect the hills of Hereford to play even more to her advantage as she should make a huge jump from last year's 23rd place finish possibly all the way to the top spot. Winning at Watkins Mill is no fluke.
Churchill Girls
County Finish: 5th
Region Finish: 5th
State Prediction: 12th
Last year, Churchill went to the state meet with all of the pressure on them and came up well short of their goal of a state title. This season has not been what the Lady Dawgs had envisioned, but the season is not over yet. Perhaps without the spotlight or pressure on them, they can go to the state meet and do quite well.

While Maryam Fikri and Alex Giedd have led the way this season, a few other girls have started to make names for themselves including Sophie Jacobson and Phoebe Palmer. Caroline Chevat had a big race at regionals as well.

They are lacking in depth moreso than they have in recent years, but a top ten finish would be a feasible goal considering the strong 4A competition this year.
Wootton Girls
County Finish: 8th
Region Finish: 6th
State Prediction: 14th
Wootton graduated a lot of talent from last year's team but saw all of its returning runners step up to keep the team competitive and once again qualify for the state meet. This week, they have tapered their mileage and studied the competition from around the state.

Says Coach Kellie Redmond, "My goal is to finish in the top 10 at the state meet. We are looking at the other regionals and seeing who we need to go after and where we need to be position wise individually."

Jessie Rubin will be the only runner in the field to have defeated Eleanor Roosevelt's defending state champion Teshika Rivers this year, but in an up and down year for all 4A girls, she has not managed to win any major races. She hopes to implement the lessons that she learned at counties and regionals in her state meet strategy.
Sherwood Girls
County Finish: 10th
Region Finish: 7th
State Prediction: 15th
The Sherwood girls were having their best season in years thanks to a collective group effort, a strong season from their top returner Teresa Cronin, and a breakout season by Olivia Mahlmann. Mahlmann, who had previously not run under 24 minutes for a 5k, found herself leading the team in most races this year.

Says Mahlmann, "It's really different being on varsity this season...It's really motivating and it shows that all the hard work this season has definitely paid off."

Sherwood took a big hit when they lost one of their top five runners, Lindsay Blank, to a foot injury. Freshman Kelly Kendall stepped into the top five to keep the team competitive enough to make it back to states. Considering the midseason loss of Blank, Coach Reeks simply hopes for the team to improve on last year's 16th place finish.