Everyone from Kensington to Burtonsville believed that Northwood's boys team would repeat as Consortia XC champions in 2018. That mission was accomplished, but athletes' and coaches' faces really lit up over the Northwood girls team which won its first Consortia title in meet history.

Northwood coach, Giovanni Reumante, said that it was a surprise. Individual boys champion, Obsaa Feda, praised the girls team before he spoke about his boys team. Individual girls champion, Madison Armonda, said that everybody was pumped.

"We started off our season a little rough," said Armonda. "I think our mentality was really bad, but all this week I was texting them, like, 'We got this. [Blair] won seven out of nine. We can actually do this.' And so I think to come here - everyone this morning was so hyped - and to do it, that's awesome. I'm proud of them."


While Armonda served as the leader and motivator for her girls squad, she found motivation in a pink ribbon pinned over her heart. She missed the Consortia Championships last year in her first year of high school cross country due to the funeral of her grandmother. This year, she pointed to the ribbon as she crossed the finish line first in 20:07.35.

"I ran it for her," said Armonda, tapping her ribbon again.

Armonda led the race from start to finish. Blair's Leah Kannan remained within striking distance for the first mile, but Armonda believed that she created separation on the large downhill about 1.25 miles into the course. She ran alone for the second half of the race and won by nearly a full minute. Hers was the seventh fastest time in meet history.



Top Ten Girls Performances in Meet History
===========================================================================
Name			School			Year		Result
===========================================================================
Bethlehem Taye		Paint Branch		2015		19:26
Yasmine Kass		Paint Branch		2016		19:33
Ciciely Davy		Albert Einstein		2015		19:38
Josephine Brane-Wright	Montgomery Blair	2016		19:49
Morgan Casey		Montgomery Blair	2017		20:01.12
Yasmine Kass		Paint Branch		2017		20:01.6
Madison Armonda		Northwood		2018		20:07.35
Morgana D'Ottavi	Montgomery Blair	2010		20:12.22
Ciciely Davy		Albert Einstein		2014		20:14
Morgan Casey		Montgomery Blair	2016		20:25

Year Boys Champs 	Girls Champs
==== ============      ============
2018 Northwood		Northwood
2017 Northwood		Blair
2016 Einstein          	Blair
2015 Einstein 		Blair
2014 Paint Branch 	Einstein
2013 Paint Branch  	Einstein
2012 Einstein 		Blair
2011 Einstein 		Blair
2010 Einstein 		Blair
2009 Einstein 		Blair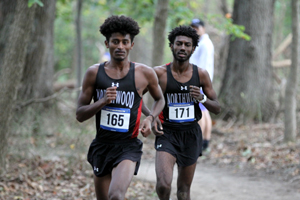 "I didn't accomplish my goal," said the first three-time boys meet champion, Obsaa Feda of Northwood High School, "but I still PR'd by a lot [for this course]."

His goal was to break the overall course record of 15:47.5 set by Andrew Broduer in the community race in 2015. Broduer was fresh out of Duke University when he recorded that performance so it is not considered to be the high school course record. Feda had to settle for the high school course record for the second consecutive year with his winning time of 16:03.58. His teammate, Eldad Mulugeta, finished right behind him in 16:03.99.

Mulugeta paced the first mile and the Northwood pair created a commanding lead on the field almost immediately. Feda believed that they were right on target after one mile, but the middle portion of the course was muddy with rocks and bad footing in places which he said slowed him down.

There is no doubt that Northwood's home course has all the turns, hills, creeks, and momentum-busters of a difficult cross-country course, something that he said that they also experienced at the Carlisle Invitational where Mulugeta fell behind Feda's pace. But the fastest man changes from practice-to-practice, and they ran this race close enough to hold hands the entire way, something that we should expect to see more of, according to Feda.

"Counties: me and my teammate are trying to break the county's record [15:24.99] and also going to try like how it feels to run sub-15...We're going to go for it to see how it feels like, and when we go to NXR we are definitely going to try to break it."



Top Ten Boys Performances in Meet History
===========================================================================
Name			School			Year		Result
===========================================================================
Obsaa Feda		Northwood		2018		16:03.58
Eldad Mulugeta		Northwood		2018		16:03.99
Obsaa Feda		Northwood		2017		16:16
Lorenzo Neil		Paint Branch		2014		16:27
Michael Abebe		Northwood		2014		16:32
Michael Abebe		Northwood		2015		16:35
Nick Simpson		Albert Einstein		2012		16:45
Ben Withbroe		Albert Einstein		2012		16:45
Binyam Tadesse		John F. Kennedy		2014		16:45
Obsaa Feda		Northwood		2016		16:45





---





Name
Comments

---

My prediction
Sunday, October 14, 2018
05:16:34 PM

1 Northwood 2 Richard Montgomery 3 Whitman 4 Wootton 5 Northwest 6 BCC 7 Paint branch 8 Sherwood 9 Blair 10 WJ

---

Coach Gio
Sunday, October 14, 2018
05:52:18 PM

Thanks for the continued coverage KP!

---

Ryun
Monday, October 15, 2018
11:57:10 PM

^

---


Contribute to the Discussion - Add A Comment